Christmas Calligraphy Workshop 3rd December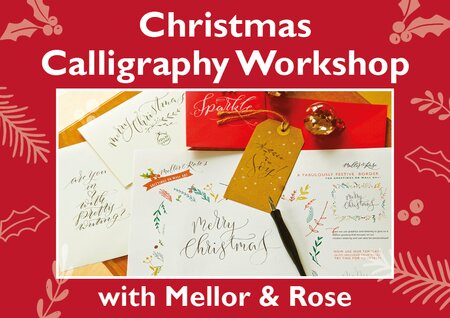 Join Mellor & Rose on our special themed 2.5 hour Christmas Calligraphy Workshop filled with festive designs and hand lettering! By the end of this fully comprehensive Workshop you will be well on your way to lettering up your very own Gift Tags, Christmas Cards and Envelopes along with some festive Wall Art quotes for your home (or to give as a gift!).
Guided by 2 expert tutors, we'll begin by covering the fundamentals of using a dip pen and ink, achieving the pressure strokes that give calligraphy its characteristic look, and mastering letterforms. We'll then progress onto linking letters, first words and phrases, supported by one-to-one tuition throughout. We'll also learn to draw with our dip pen and begin adding festive foliage and flourishes to compliment your calligraphy skills and those gorgeous Christmas Cards.
WHAT'S INCLUDED?
• Festive Hand lettered Calligraphy Box
• Themed 2.5 hour workshop
• Includes Full Starter Kit (dip pen + nib)
• Mellor & Rose Calligraphy Workbook (script alphabet)
• Festive Words + Phrases
• Festive Design Layout templates
• Banners + Ornaments (decorative illustrations)
• Luxe Stationery Items
• 2 Expert Tutors (Beverley Mellor and Lucy Mellor)